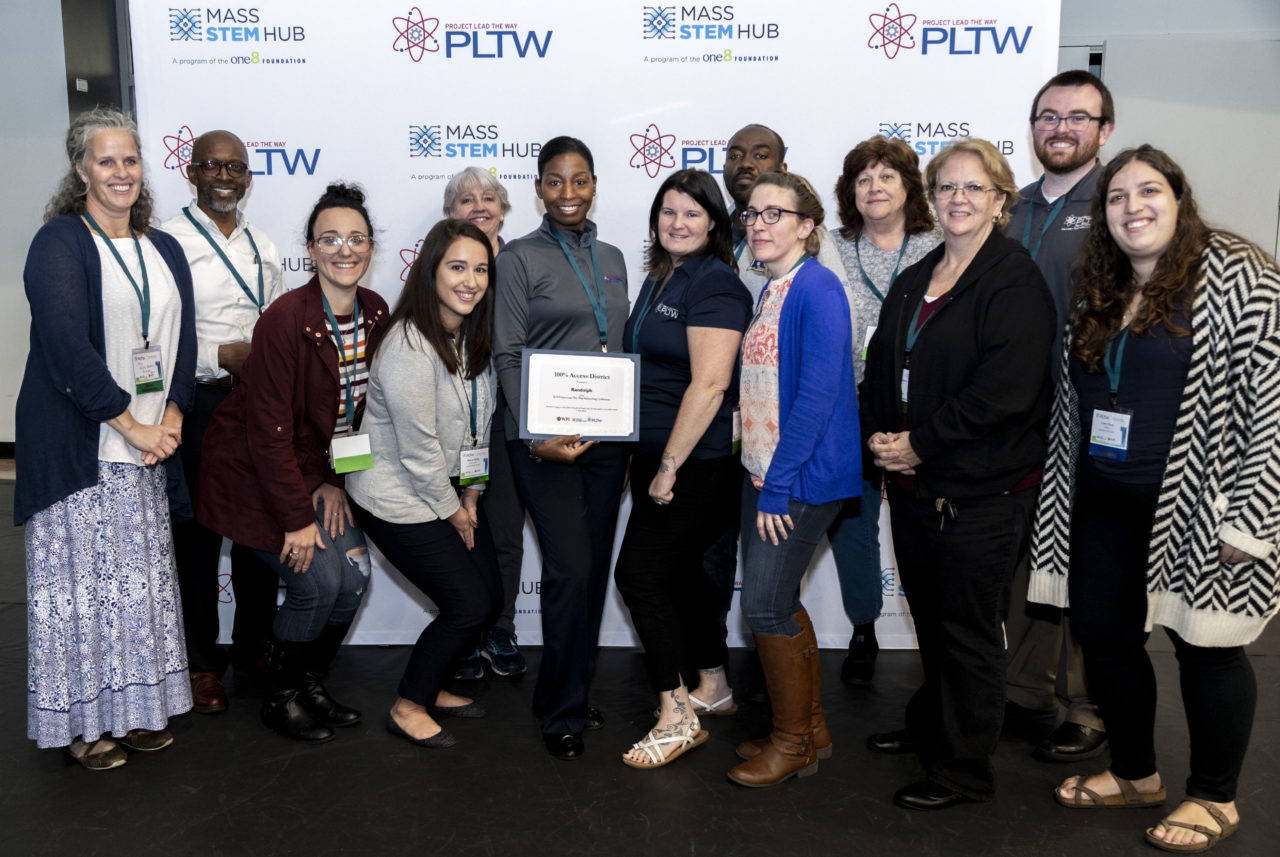 One8 Foundation Applied Learning Grants
The One8 Foundation's applied learning school grants for SY2023-24 are now open.
The One8 Foundation is committed to building the classrooms of the future by supporting Massachusetts schools to adopt proven applied learning programs. Over the last five years, we have funded over 550 schools across the Commonwealth to adopt or expand applied learning programs. These programs help drive higher levels of student engagement by situating learning in the context of real-world problems and allow students build the knowledge and skills they need to succeed in the 21st century.
Project Lead The Way (PLTW) provides the nation's leading K-12 engineering, computer science and biomedical science courses using an activity-project-problem based approach so all learning destinates in students using knowledge and skills to solve real world problems.
Learn more about Project Lead The Way here.
Start or expand your school's PLTW program with grants from the One8 Foundation. Grants cover teacher training, durable equipment, and technology.
Qualifications:
Open to all public schools (K-12) in Massachusetts
Competitive preference for schools with significant number of students from economically disadvantaged backgrounds
Competitive preference for high schools applying for Biomedical Science and/or Computer Science
Competitive preference for districts building out multi-school pathways (e.g., 6-12 or K-12)
Application and Timeline (two application rounds available):
Apply here.
November 10, 2022: Grant Info Session (register here)
Round 1

December 21, 2022: Grant App Part 1 Due
January 11,12,13, 2023: Interviews
February 2, 2023: Award Notification

Round 2

March 1, 2023: Grant App Part 1 Due
March 13, 14, 15, 2023: Interviews
March 31, 2023: Award Notification

ST Math offers an engaging, highly effective visual, conceptual math program based on the neuroscience of how the brain learns. This supplemental program is aligned to K-5 standards and delivers results for ALL students. ST Math has a proven track record of building conceptual math understanding, a love of math and confidence in math ability at early ages.
Learn more about ST Math here.
Schools awarded a grant become members of the ST Math Massachusetts Program. Members of the Massachusetts Program receive funding to offset program adoption costs, advanced teacher training to support implementation, and access to yearly events such as learning symposiums. Over 245 schools across the state currently participate in the Massachusetts ST Math Cohort.
Qualifications:
Open to all public elementary schools in Massachusetts
A plan for full school adoption
Application and Timeline:
Apply here.

Open SciEd (OSE) is an NGSS aligned core science curriculum for grades 6-8 using phenomenon-based instruction. With a focus on equitable sensemaking, students drive the learning in OSE classrooms.
Learn more about OpenSciEd here.
In order to grow and support OSE in Massachusetts, One8 is excited to partner with the OSE Equitable Instructional Initiative (OEI) at Boston College. Schools awarded a grant become members of the OpenSciEd Massachusetts Program. Members of the Massachusetts Program receive funding to offset training and durable equipment costs, implementation support from the OEI team, priority access to in-state OSE training, as well as additional professional learning resources & student programming.
Qualifications:
Open to all public schools in Massachusetts that have students in grades 6, 7, and/or 8
Schools must be in districts with at least 15% of students designated as economically disadvantaged
A three-year implementation plan that leads to whole school participation and full OSE curriculum adoption
Competitive preference for teams that demonstrate knowledge of and commitment to OSE's instructional approach
Application and Timeline:
Apply via the OEI website here.

PBLWorks (formerly The Buck Institute for Education) builds capacity of educators to design and facilitate high-quality K-12 project based learning across all grades and disciplines.
Learn more about PBLWorks here.
Grants are available for schools in Massachusetts to implement high-quality project based learning with PBLWorks. The Massachusetts School Leader Network (MA SLN) is designed to help school leaders create the ideal conditions for PBL to thrive in their school, and to train teachers to implement high quality projects to accelerate and deepen learning.
The School Leader Network is a multi-year program (Cohort 3 runs from March 2023 – June 2025) that provides the deep levels of professional development to school leaders and teachers and the support needed for high-quality implementation – through face-to-face workshops, virtual coaching, and a peer network of local PBL leaders. Grants for Cohort 3 will cover 40% of participation fees.
Qualifications:
Open to all public schools in MA
Competitive preference for schools that serve high populations of economically disadvantaged, black and/or Latinx students
Application and Timeline:
Request an application here
November 4, 2022: Letter of Intent Due (highly recommended)
November 10, 2022: Grant Info Session (register here)
December 15, 2022: Applications Due
January: Interviews
February 10, 2023: Award Notification
March 2023: Leader Launch workshop