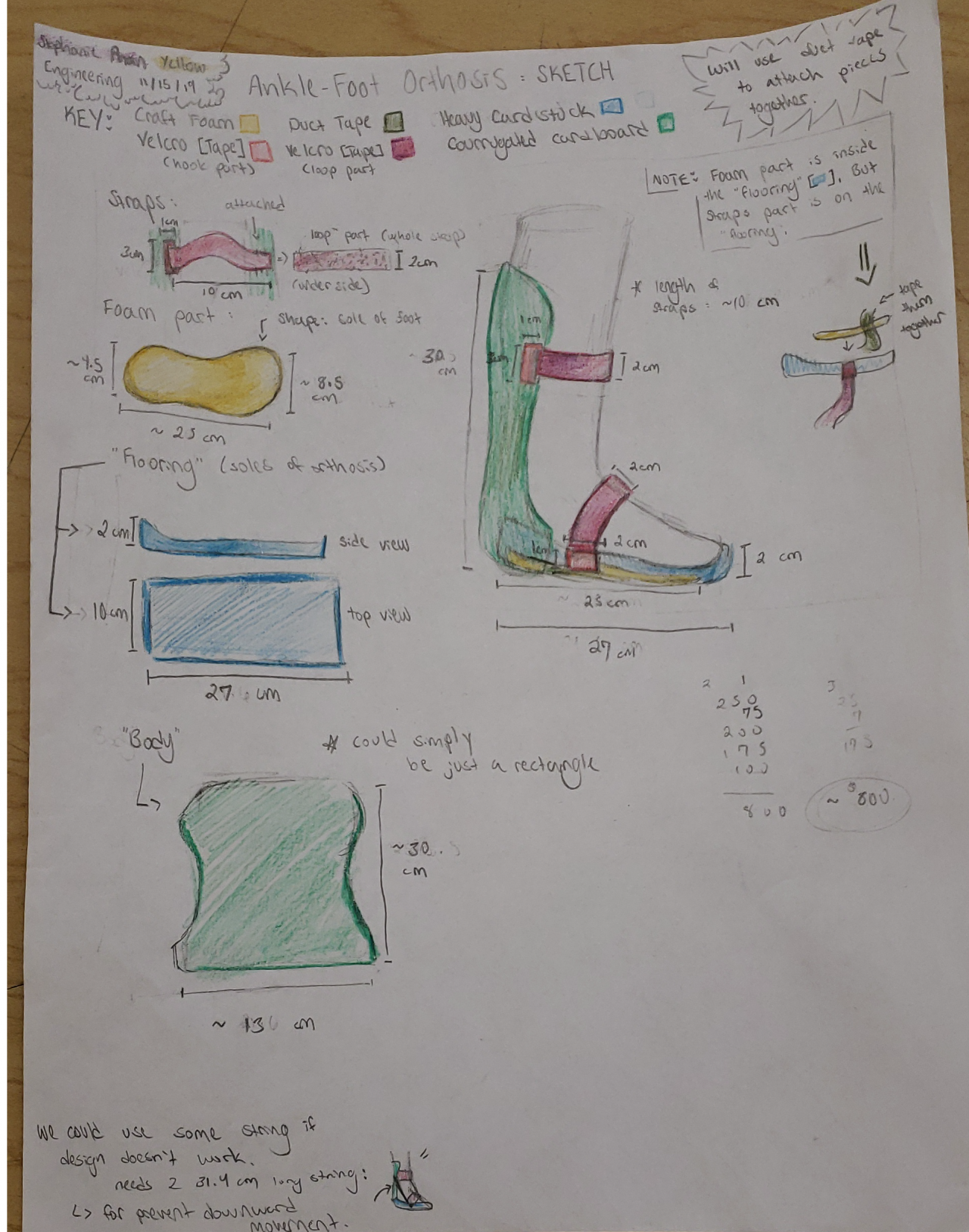 Student Work | Mass STEM Hub
Middle School | DM | Design Challenge: Foot Orthosis
Check out the student work submitted for real-world industry feedback! Learn more about submitting student work to receive real-world feedback here!
Grade: Middle School
PLTW Course: DM (Design and Modeling)
Submission type: Design Challenge: Foot Orthosis
Project overview: In the Project Lead The Way (PLTW) Design and Modeling unit, middle school students begin by learn about Cerebral Palsy (CP), the engineering design process, 3D modeling, and prototyping, ultimately applying their learning to create a therapeutic toy for a child with CP. Early in the unit, before learning about the engineering design process, students are challenged with creating a prototype of an ankle foot orthosis, with the goal of having them experience and reflect on the steps they take, the decisions they make, and the roles they play on the team during the process.
Student submission: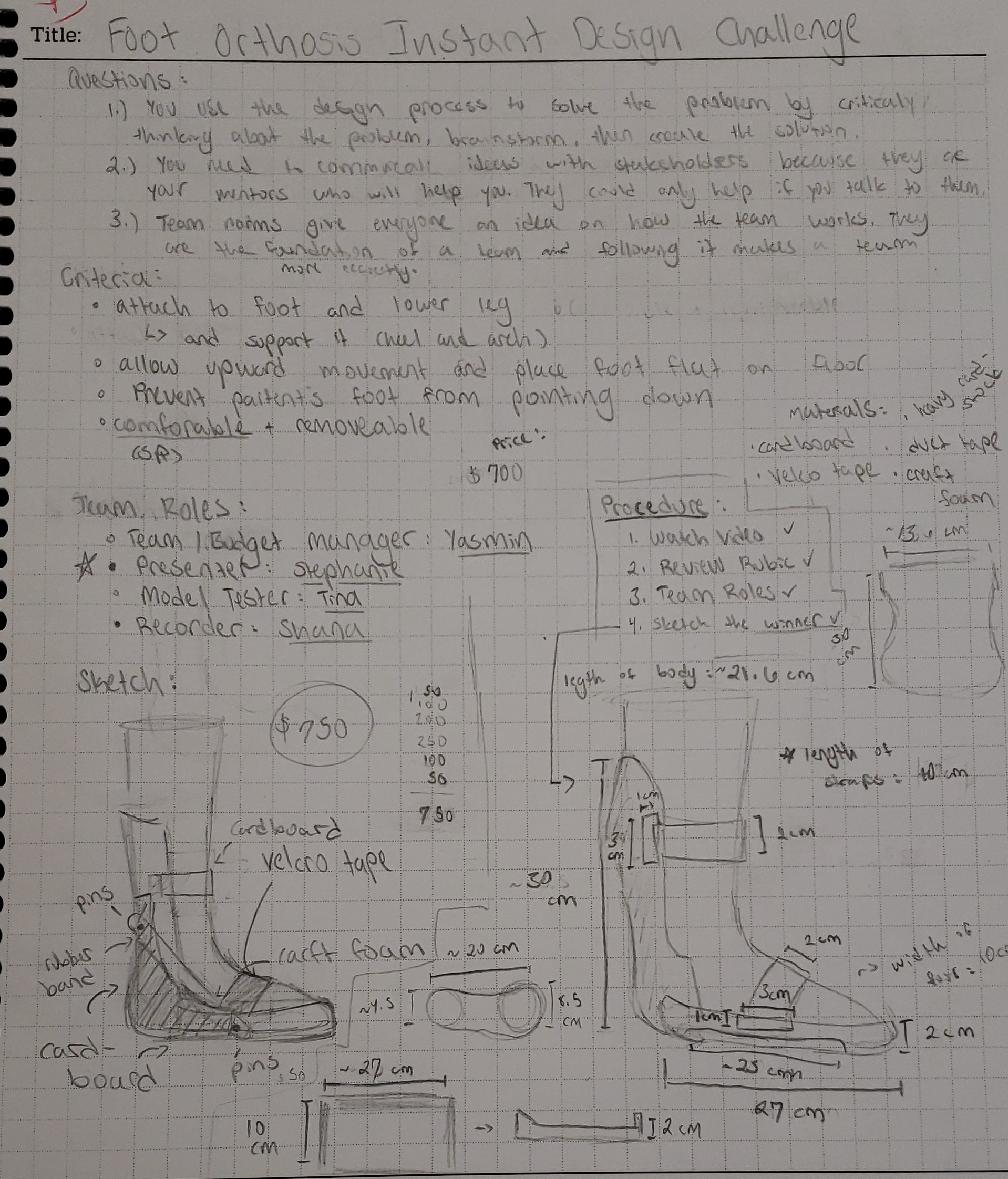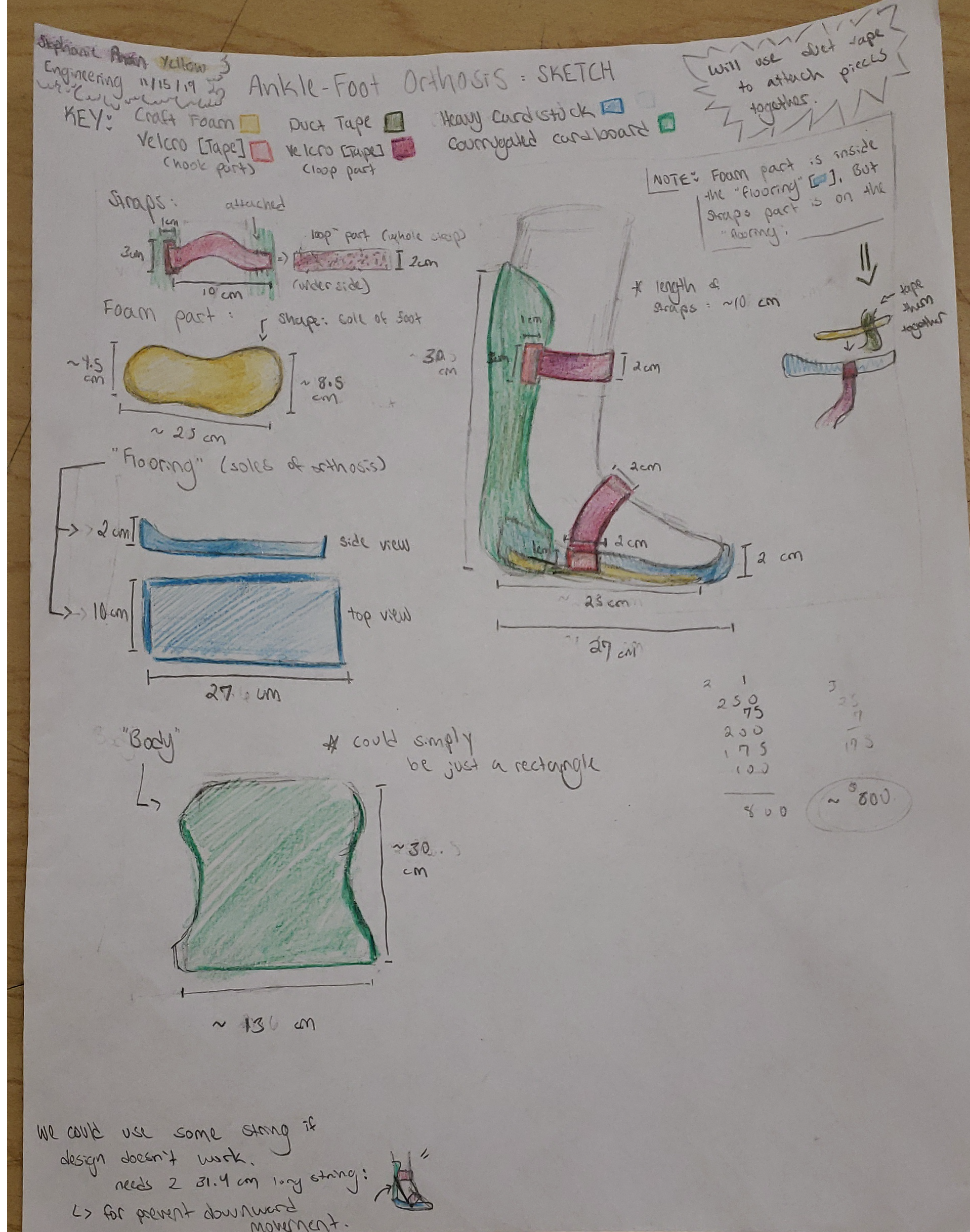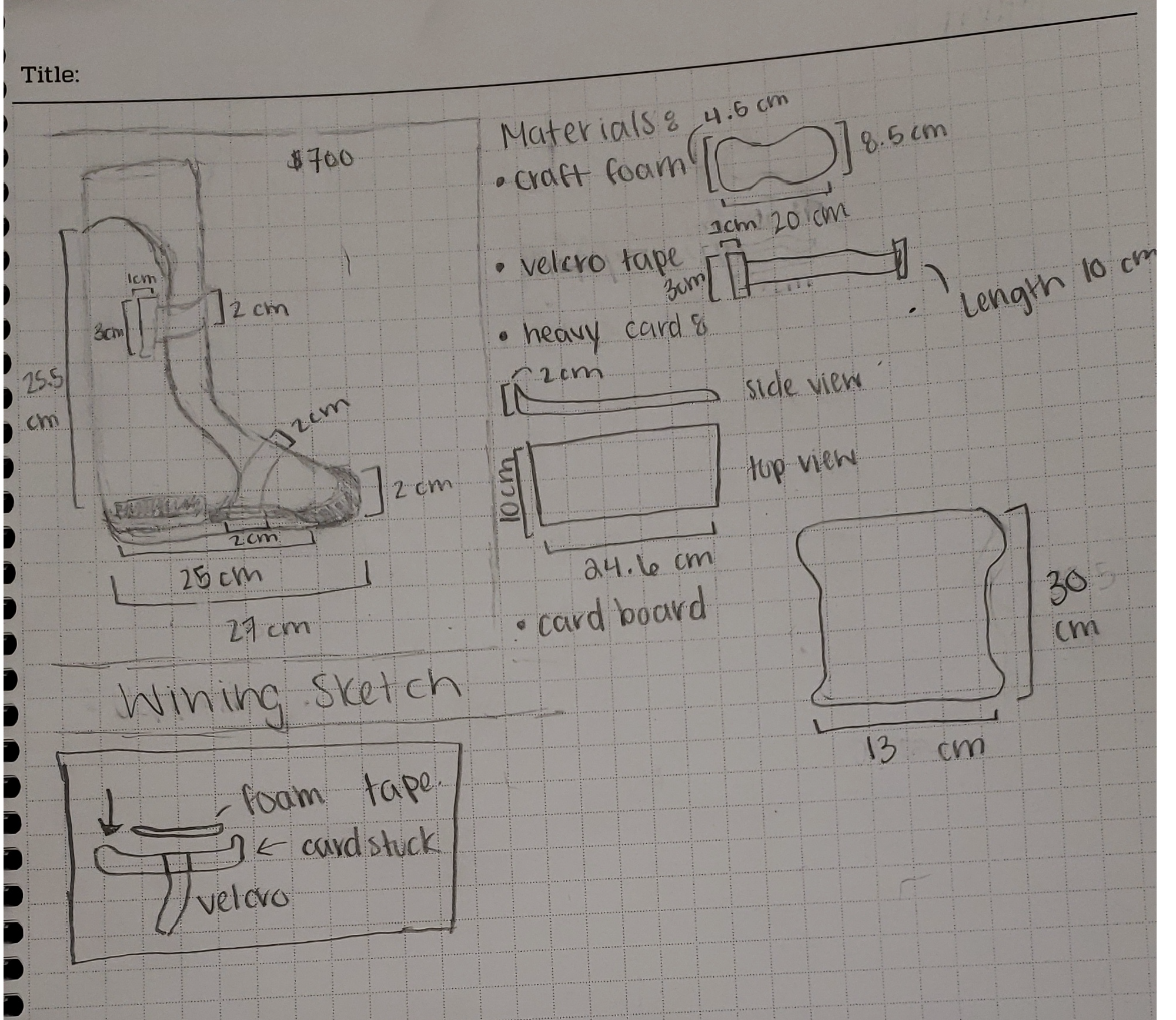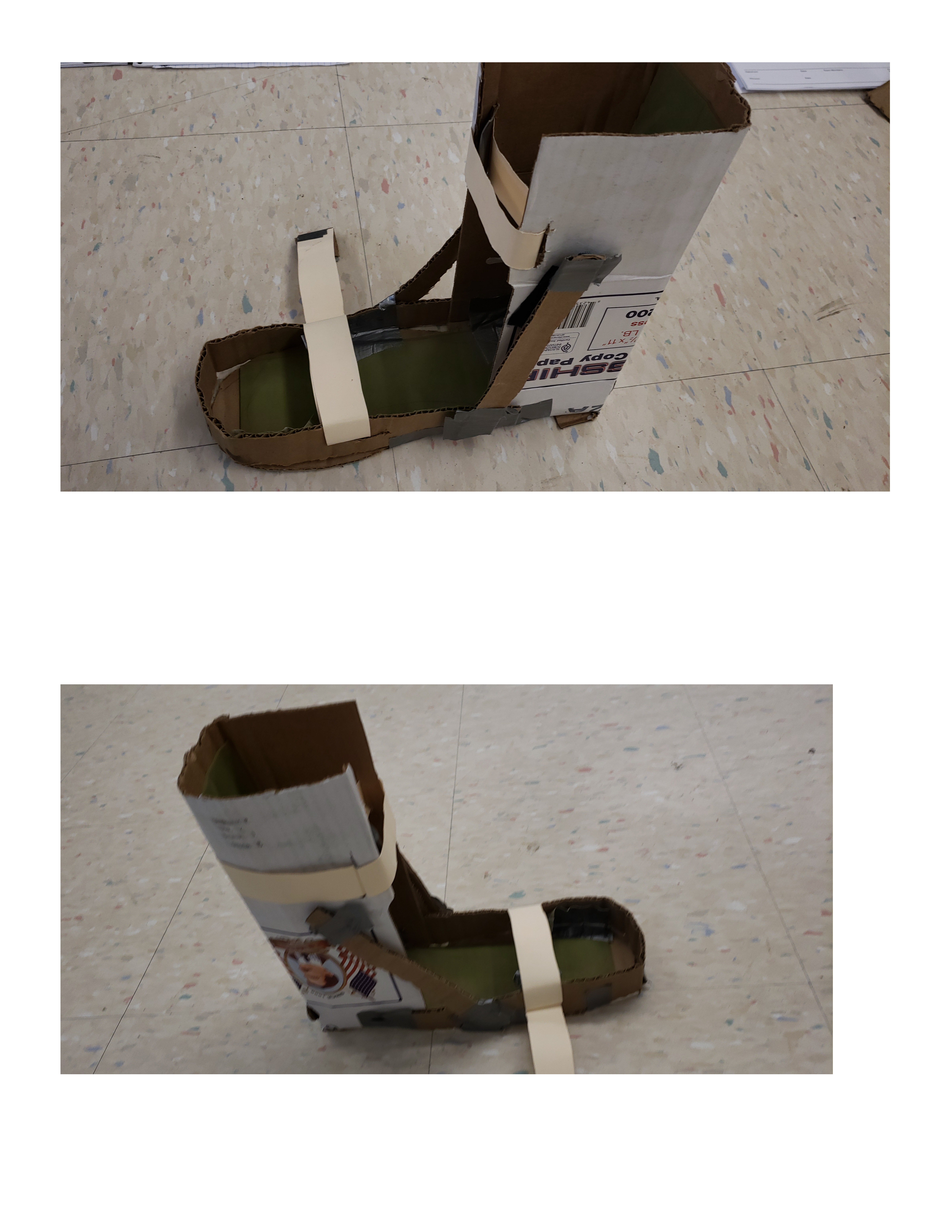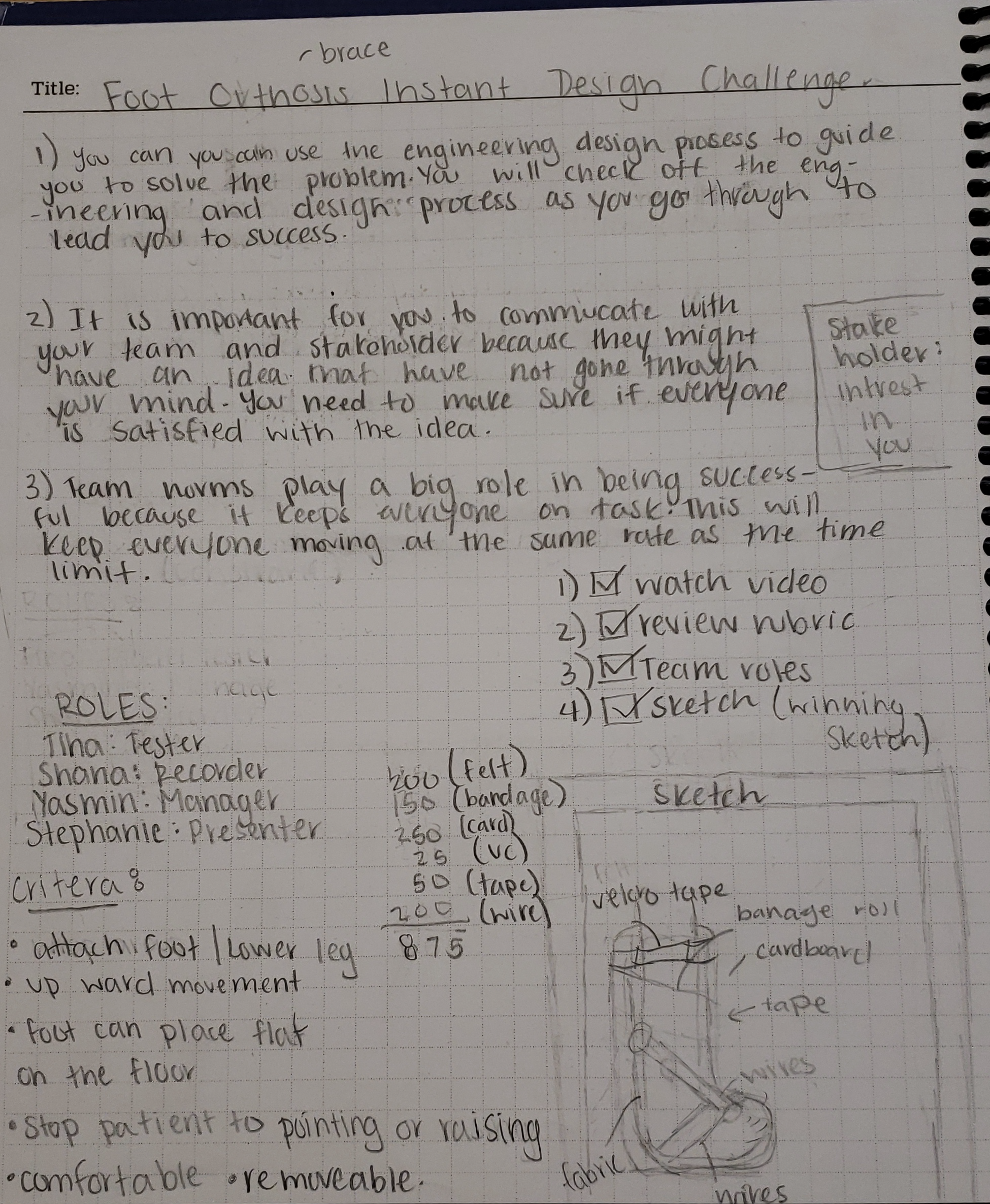 Select judge feedback: 
"Amazing sketch, great use of color to differentiate the components, great detailed dimensions for your design sketch! Planning like this is what engineering is all about, along with a measure twice-cut once mentality! I love your use of the side support trusses, this shows real mechanical knowledge and intuition. Your design looks very mechanically robust! The prototype execution is fantastic. Your team was careful in your planning to make sure that the dimensions were correct, and this level of planning and organization really shows in your final prototype.
I saw that you took the time to write out your criteria, but I didn't see any explanations as to how the features were designed to meet this criteria. I can see that your design was well thought out, so that's not to say you didn't have it in mind, but next time you should write out and take credit for every aspect of your device! There's a saying in the medical device field – "If it's not documented, then it didn't happen!" Grid paper is a great tool if you use it right; Next time you should draw your sketches "to scale", meaning you should define what one "box" on your grid paper measures (example – 2 cm x 2 cm) and use this as a template to draw your components (a part is 10 cm long, it will take up 5 boxes by this scale). It's not necessary, but it really makes visualizing your final concept and how parts fit together much easier as you start designing more complex devices.
Overall your team did a fantastic job and you should all be really proud of this — Keep this success in mind for all of your future projects!"
– Development Engineer, Smith & Nephew
"My name is Justin, and I have worked in the STEM field in and engineer for many medical device companies. I currently work at Smith and Nephew where I create and design medical devices to be used in fixing shoulder and hip injuries all over the world. You did an excellent job on the project and keeping the design simple to use and focused on your objectives – there are many times in the real world where making designs too complex can cause problems when moving from prototype to actual use. Your sketches were well detailed and clear – the colors were a plus! I particularly liked the design matrix you used to judge components of your prototypes. These matrices are extremely helpful to drive decisions and we use these regularly in my work. I also liked your acknowledgement of backup plans and simplifications for when putting together your prototype such as "could be a rectangle" and "could use string". It is always important to have a backup plan so you can adapt fast in the real work to any unforeseen problems.
Overall, the design and prototype seem like a realistic solution to the problem. It was not clear though how the dimensions for the prototype were selected. You did make it clear that you understood the need for adjustability for differences in people using the device but how would you ensure the device worked for (almost) everyone?
Fantastic work! You really showed your commitment to this project and wishing you all the best in your future endeavors."
– Senior Medical Device Development Engineer, Smith & Nephew
Award: Challenge Winner (2019-20)
School: Randolph Community Middle School
Teacher: Chakara Cardillo

You might also be interested in