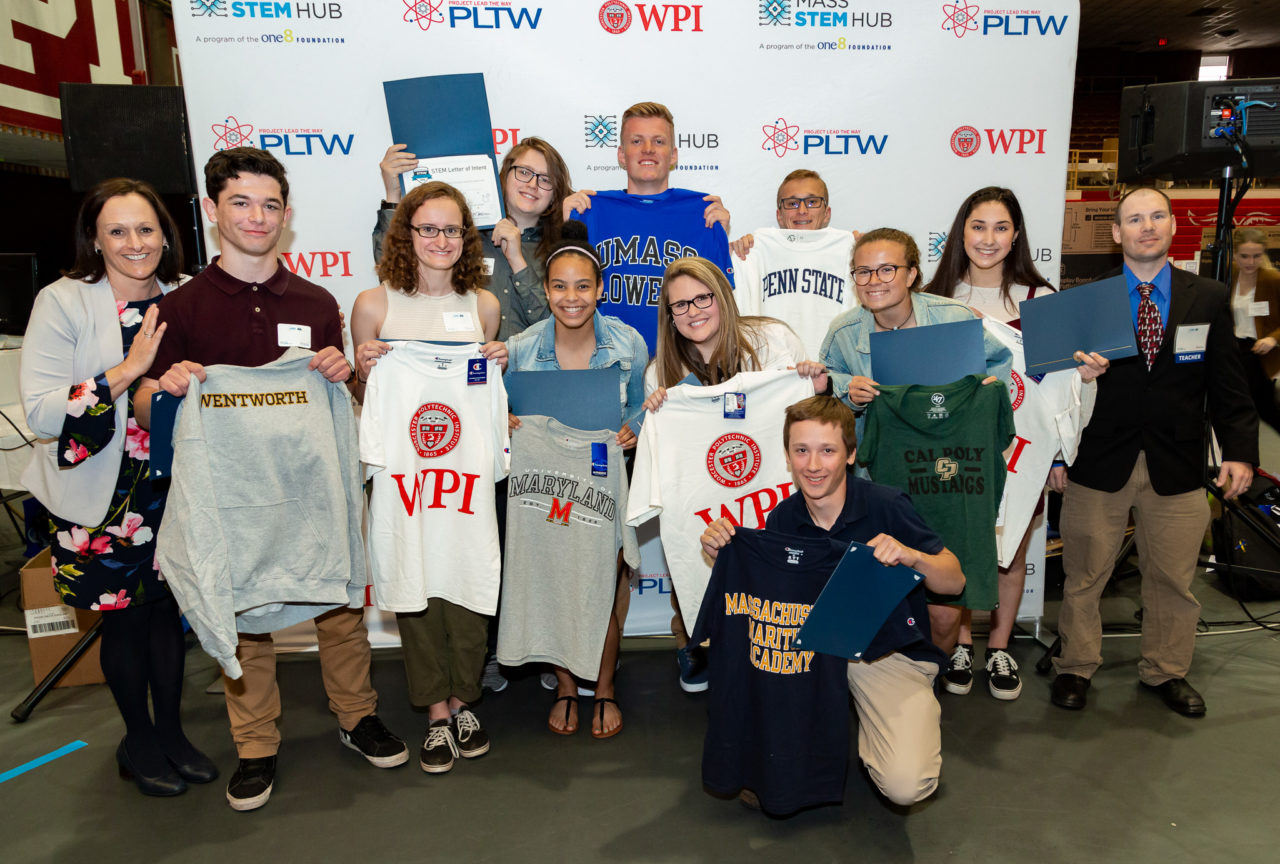 Massachusetts Project Lead The Way
Scholarship & Credit Opportunities
PLTW students are uniquely prepared for study and success in STEM fields. UMass Lowell, Worcester Polytechnic Institute, Wentworth Institute of Technology, and Massachusetts Bay Community College recognize PLTW students' potential by providing college credit and scholarship opportunities. 
Thank you to UMass Lowell, Worcester Polytechnic Institute, Wentworth Institute of Technology and Massachusetts Bay Community College for recognizing PLTW student achievements.  
Scholarship: 
Massachusetts students can be nominated for a $5,000 scholarship from UMass Lowell, renewable annually for four years of undergraduate study. Scholarship awardees must enroll at UMass Lowell in a STEM field and also meet the following criteria:
have completed at least one PLTW course, with strong preference to those who have completed at least three

be nominated by a STEM high school teacher, school counselor or principal

show a minimum cumulative high school GPA of 3.0

apply for a STEM program by the Regular Decision deadline
Learn more and nominate your students here.
Credit:
Once at UMass Lowell, students apply for up to 3 units of university credit based on their completion of PLTW high school courses with departmental approval. 
Worcester Polytechnic Institute
Scholarship: 
WPI provides Project Lead The Way scholarships annually to five accepted first year MA students who have completed at least three PLTW high school courses. These awards are valued at $20,000 a year and are renewable for four years. Selection is based upon the admissions applicant's academic performance and success in the Project Lead The Way program at their high school. Scholars are notified in March of their senior year. More information about the WPI admissions application process and scholarship opportunities can be found at admissions.wpi.edu.
Credit: 
WPI offers PTLW engineering students college credit for their PLTW coursework! To earn credit free of charge, enrolled WPI students who complete PLTW Engineering coursework in high school must have:
received a minimum of a "B" in the course

earned on the PLTW End-of-Course Assessment either a stanine score of 6 or higher (before July 2018) or another acceptable score (TBD)
Note: WPI course equivalents have already been identified for Introduction to Engineering Design (IED), Principles of Engineering (POE), Civil Engineering & Architecture (CEA), Computer Integrated Manufacturing (CIM), and Digital Electronics (DE). As deemed appropriate, WPI also accepted PLTW transfer credits from other PLTW Partner Universities (RIT and others). More information can be found at www.wpi.edu/+pltw. 
Wentworth Institute of Technology
Scholarship:
Wentworth Institute of Technology awards scholarships to all accepted students who are graduating from a Massachusetts high school. Qualifying students must have:
completed at least 3 PLTW courses or be currently enrolled in their third course at point of application

completed the End of Course assessments for their PLTW courses

Other considerations:

The scholarship amount will vary based on the number of qualified candidates with a minimum guarantee of $1,000, renewable for the length of the student's program (8 semesters for all majors with the exception of Electromechanical Engineering which is a 10-semester program), provided Satisfactory Academic Progress is maintained. 

An application is not required by the student to be considered for this scholarship.
Credit: 
Wentworth will award college credit to first-time enrolled students who:
successfully complete select PLTW courses with a grade of "B" or higher 

earned an end of course test score of 6, 7, 8 or 9
See the full list of PLTW courses and Wentworth equivalencies here: wit.edu/admissions/undergraduate/college-credit
Massachusetts Bay Community College
Credit: 
MassBay will award college credit to students who:
successfully complete PLTW

Computer Science Principles

and

Cybersecurity

courses with a grade of "B" or higher 
graduate with a high school cumulative grade point average of "C" or higher overall
High schools need to complete an articulation agreement in order to secure this opportunity for their students.
Print this form and enter the information relevant to your school
Have your school Principal, Superintendent, OR Assistant Superintendent sign the agreement
Return the signed agreement by email to Alison McCarty (amccarty1@massbay.edu) at Massachusetts Bay Community College
Tell your students about the opportunity!