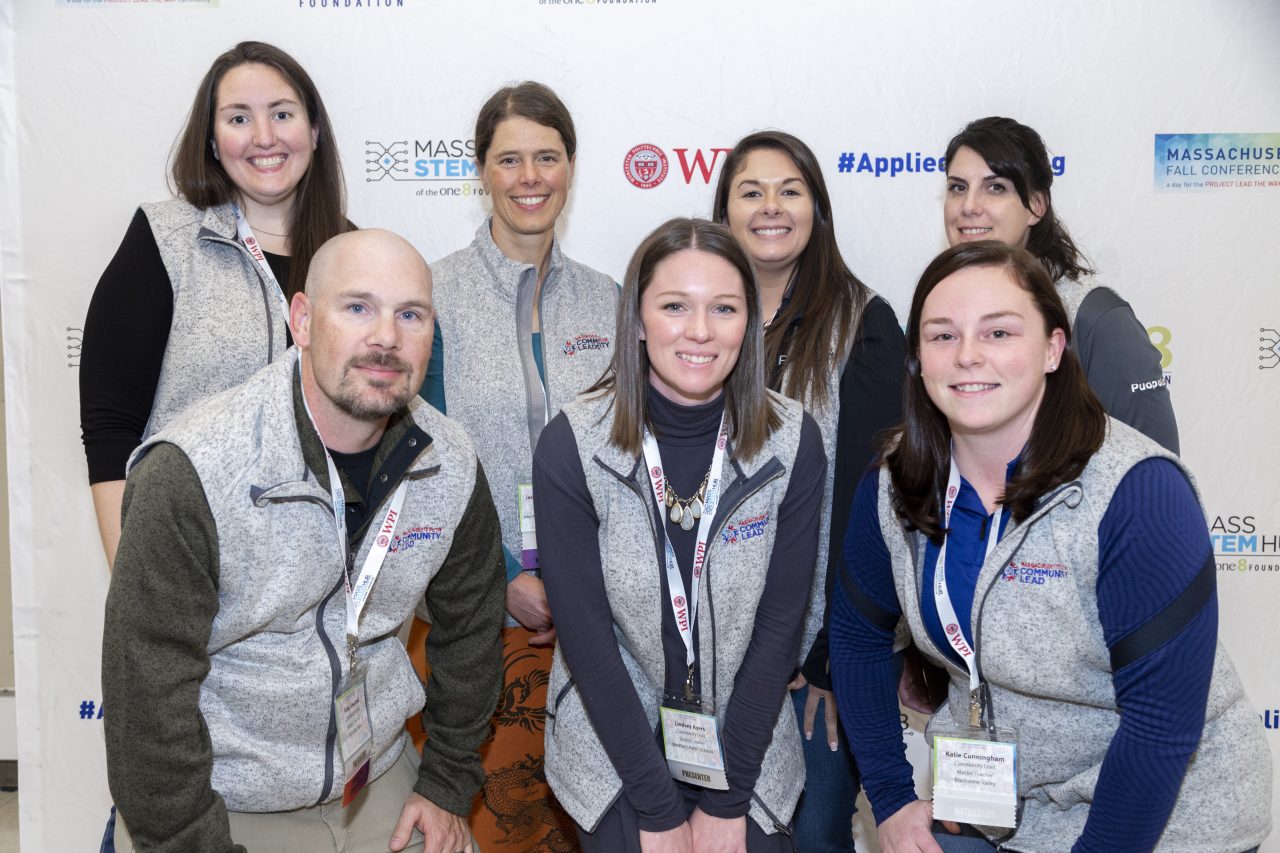 Lindsey Ayers is a Lead Launch Teacher (LTT) at Franklin Avenue Elementary School in Westfield, MA. Lindsey is in her 10th year teaching elementary students, while entering her 3rd year teaching PLTW to second graders.  PLTW has changed the way she thinks about teaching and learning in surprising and exciting ways, and she is eager to expand the Launch program in her school and district beginning this year.
PLTW Modules: The Changing Earth, Materials Science: Properties of Matter
Ashley Puopolo is a STEM Specialist for Stoneham Central Middle School. She will be entering her 5th year as a Massachusetts PLTW teacher. Being a PLTW teacher has allowed for many collaborative opportunities with industry leaders, top higher education institutions and a cohort of colleagues who love bringing STEM education and real-world opportunities to their students. One such experience as a PLTW educator was participating in the Boston Children's Hospital Student Showcase of a Therapeutic Toy Design Challenge for a patient with Cerebral Palsy. Her educational strengths are best demonstrated through her technology integration and modification of design challenges. In particular, Ashley is developing new methods of digitizing PLTW curriculum, including design challenges, engineering notebooks, Slide Guides and various Google tools to create fun and engaging projects and activities.
PLTW courses: Automation & Robotics, Flight & Space, Design & Modeling, Medical Detectives, Science of Technology
Mike Smutok is currently a Technology/Engineering teacher at Uxbridge High School. He has been teaching for 16 years and has his Bachelors and Masters degrees in Technology/ Education. He currently teaches four Project Lead the Way courses, as well as elective courses in manufacturing and construction engineering. He is certified 5- 12 Technology/ Engineering. Mr. Smutok is also a Science Olympiad assistant coach and has served as a mentor teacher at Uxbridge High School. Mike loves how PLTW has many open-ended problems and teaching engineering has been very rewarding. PLTW has also allowed him to continue to teach students about design and manufacturing, two subjects he is passionate about. When Mr. Smutok is not teaching, he enjoys fishing, woodworking, and spending time with his family and dog.
PLTW Courses: Introduction to Engineering Design, Principles of Engineering, Civil Engineering and Architecture, Computer Integrated Manufacturing, and Engineering Design and Development
Jessica Meade teaches at Plymouth South High School and is in her 11th year of teaching. Prior to being a science teacher, Jessica worked as a pediatric chiropractor for 12 years. A combination of an injury, a family of educators, and great luck led Jessica to the high school classroom, which has been an incredible, joyous learning experience for her. PLTW's Biomedical Program has given Jessica a way to blend her medical training with the best science lesson designs. PLTW's curriculum settles the teacher in a role that feels very natural to Jessica, as a guide for her students as they explore the science for themselves. The 2019-20 school year is Jessica's 5th year teaching PLTW's Biomedical Science courses, and she is teaching the 4th course in the progression, Biomedical Innovations. Jessica has training in all four courses and has also taught Anatomy, Forensic Science and Biology. The new Community Lead Program is giving Jessica a way to help other teachers develop the course into their own. Jessica knows the new course and understands the struggles of new Biomed teachers and she is ready to help them find their happy place.
PLTW courses: Principles of Biomedical Science, Human Body Systems, Medical Interventions, Biomedical Innovations
Anna Seiders teaches Math and Engineering in the Everett High School STEM program. She has been teaching for 11 years, 10 of which have been in Everett, and is certified in Mathematics 8-12 and Technology/Engineering 5-12. Before training in PLTW Engineering, Anna was a math teacher for all high school grades. She has worked in a variety of classroom settings. Anna was trained in PLTW POE and CEA in 2017 and EDD in 2018. Anna loves how students are able to all experience the same curriculum in different ways. Her favorite course to teach is EDD because you are able to see the imagination of students come alive. In addition to her classes, Anna is the advisor for the STEM Club, a PowderPuff Coach, a district wide mentor, and a virtual learning leader. In her free time, she enjoys playing with her niece and nephew, reading Harry Potter, and spending time at outdoor cafes.
PLTW Courses: Principles of Engineering, Civil Engineering and Architecture, Engineering Design and Development, Common Capstone
Katie Cunningham is the Information Technology & Networking Team Leader at Blackstone Valley RVTHS. Ms. Cunningham started her teaching career back in 2012 at Bay Path RVTHS teaching technology courses in their night school program. She then transitioned from night school instructor to the Programming and Web Development Shop Instructor in 2014. In 2017 she joined the Information Technology and Networking Program at BVT where she took on the role as team leader. She currently teaches the four Project Lead the Way courses within the Computer Science Pathway, as well as coursework preparing students for CompTIA and Cisco Certifications.
PLTW's Computer Science Pathway has given Katie the means to encapsulate all the different career options Computer Science offers within her classroom.  The new Community Lead Program gives Katie a way to help other teachers develop the course into their own and share the resources and tips and tricks she has learned with the course over the years. In her free time, Katie also works in the cybersecurity field as an IT Security Analyst, coaches soccer and lacrosse, advises the game development club and loves to hike up in NH and Maine with her family.
Jessica Engebretson is a STEM teacher at JFK Middle School in Northampton. She has 21 years of teaching experience with 7 of them dedicated to Project Lead the Way. She started the PLTW Gateway program at The Springfield Renaissance School with a MA STEM grant and currently is at the middle school in Northampton helping to grow the STEM program.  Jessica loves both the PLTW curriculum and the community. The well thought out curriculum gives her a platform to deliver skills that students can use throughout their lives and the community of dedicated, innovative colleagues energizes her teaching every time she is with them. Each year Jessica loves to see students discover themselves as confident, creative problem solvers as they move through the curriculum with a little leeway and some guidance. Jessica is excited to continue to be a part of PLTW as a Community Lead to help others find the magic within the program.
Erinn McLaughlin teaches at the Stoklosa Middle School in Lowell and this is her 9th year of teaching. In 2020 Erinn won the Rookie of the Year award from Mass STEM Hub for her work in App Creators. Since then, Erinn has taken may more PLTW classes such as CSIM, Launch, Science of Technology. Being a community lead allows Erinn the ability to help teachers develop the courses into their own. She is happy to help the community dive deeper into the curriculum.