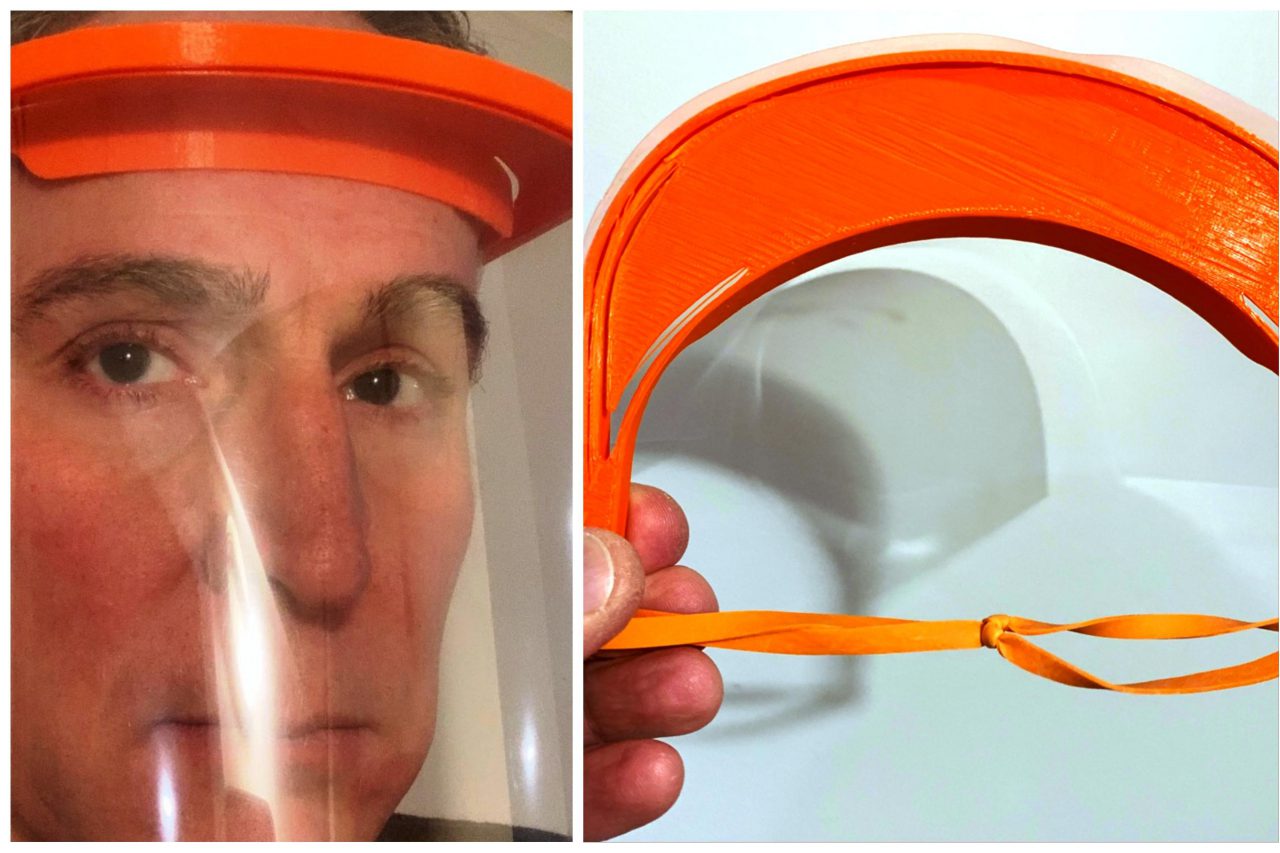 Article | Wicked Local Chelmsford
HOMETOWN HEROES — Chelmsford teacher creates 3D face shields
Click through to read this article from Wicked Local Chelmsford about one of our Project Lead the Way high school engineering teachers 3D printing face shields, a form of personal protective equipment (PPE), for frontline healthcare workers during the COVID-19 crisis.
---
By Margaret Smith
msmith@wickedlocal.com
CHELMSFORD — A time of crisis, such as the coronavirus pandemic, requires using knowledge and creativity to solve problems.
As a teacher of engineering at Chelmsford High School, David Steeves has put his abilities to work, creating face shields to help medical professionals on the frontlines of the coronavirus battle. Steeves makes the mask with a three-dimensional or 3D printer.
In all, Steeves, has contributed 100 face shields for healthcare workers in area hospitals. Steeves did so in response to a call from Mass STEM Hub — a partnership group of educators and industry professionals — to help in the crisis. STEM is the acronym for science, technology, engineering and mathematics as academic disciplines.
Mass STEM Hub coordinated the work of school districts with 3D printers for design options with teachers to print and optimize designs for their districts' printers. The project took place with the help of schools that participate in Project Lead The Way, which provides programs and support for science, computer science and engineering teachers and their students.
Steeves utilized Fusion 360, with software connecting the product design, and development process in one tool.
The filament for the face shields was reimbursed by Mass STEM Hub.
The technology will be used to create face shields for the school district's nurses.
Steeves recently talked about his work, the challenges facing teachers as a new year approaches in the coronavirus crisis, and instilling in students a love of engineering, and using skills — and a sense of discovery.
Please tell me about the 3D face shields you have made.
The face shields are designed to protect oneself from the airborne droplets produced when someone nearby coughs or sneezes. It is made up of three parts with the main component being created on a 3D printer. The 3D-printed component is then combined with an overhead transparency and elastic bands and assembled into the final product.
How and where are they distributed?
I was able to 3D print just over 100 of these pieces over a two-month period and delivered them to Mass STEM Hub in Boston where they finished the assembly…Mass Stem Hub collected the 3D printed components from many of the Massachusetts Project Lead The Way educators and delivered over 500 shields to Beth Israel Deaconess, Mass General Hospital and the Boston Emergency Operations Center.
How and when did you get involved in making them?
It was early April when I received an email from Mass STEM Hub, a local organization supporting STEM in schools, asking if I would consider their initiative to help alleviate the face shield shortage. Their plan was to use Project Lead The Way schools to 3D print parts for face shields to help protect front line health care workers suffering from [personal protective equipment] shortages.
Why is this work important to you?
It was heartbreaking to see so many people suffering and I very much wanted to help in some way. At the time, COVID-19 was spreading rapidly, and the number of sick individuals growing quickly. Hospitals were struggling to keep up and top of that was the PPE shortage. It was a challenging time and I feel fortunate there was a way to help.
You are an engineering teacher at Chelmsford High School. Please tell me more about Project Lead The Way Engineering Design Process.
Project Lead The Way defines the engineering design process as, "an iterative, systematic approach to problem-solving." Students are given this process to help find and evaluate possible solutions to a problem in a repetitive, circular fashion.
They start by defining a problem, generating ideas and then building, testing and evaluating their ideas in search of an optimal solution to the problem. One example would be designing a coffee mug that keeps coffee hotter for longer over a traditional coffee cup.
What are your thoughts as a teacher looking ahead to the new school year, as the coronavirus crisis continues?
I miss working with the students and am hopeful we can start on time and use preventative measures to stay safe. I know this will require a lot of regular sanitizing, washing hands, wearing masks and using face shields. I feel the effort will be worth it if we are able to keep [Chelmsford High School] open and remain in session.
As a teacher of engineering, what do you see as the most important thing you can convey to your students?
In short, try and try again until you succeed! This sounds cliché, yet at its core is the engineering design process. Students may not realize it, but they'll use much this process throughout life for challenges that may have nothing to do with engineering.
You might also be interested in