Student Work | Mass STEM Hub
High School | HS Biomedical Science | MI | Activity: Tiny Treatment | 1st Place High School Biomedical Science Project
Check out the student work submitted for real-world industry feedback! Learn more about submitting student work to receive real-world feedback here!
Grade: High School
PLTW Course: Medical Interventions
Submission type:  Activity: Tiny Treatment
Project overview: In the Medical Interventions course, students follow the life of a fictional family as they investigate the prevention, diagnosis, and treatment of disease. They study real-world cases as well as interventions and careers related to immunology, surgery, genetics, pharmacology, medical devices, and diagnostics.
Students have been exploring cancer treatments.  This includes investigating personalized medicine and nanotechnology and learning about clinical trials.  In this activity, groups of students have been asked to use what they have learned throughout the unit to design their own nanotechnology-based or immunotherapy cancer treatment and create a clinical trial to test the safety and efficacy of their designed treatment, all in theory of course.
Select student submission materials: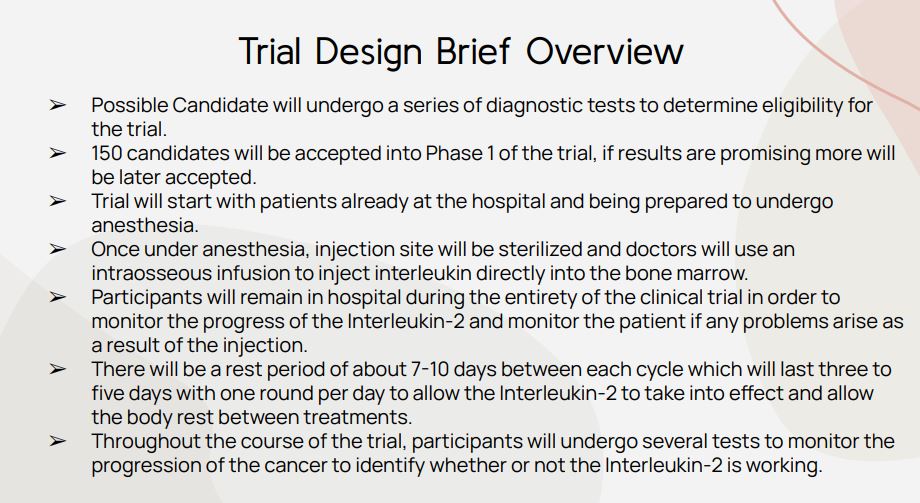 Link to the full project: click here
Select Judge Feedback: "Hello, thank you for the opportunity to review your project!  I work at Moderna where I am a Senior Program Manager in Infectious Disease Research. I really enjoyed reviewing the presentation on your clinical trial. You all did a great job in organizing your presentation in a way that was easy to follow and understand. I really like that you spent some time on the safety aspects; since intraosseous delivery can be quite invasive and since this is a clinical trial that may have unwanted side effects, giving the potential trial participants lots of safety information is great.
One thing to consider is how to ensure the use of IL-2 doesn't cause off target effects that could make the therapy ineffective overall; it might be worth research "T cell exhaustion" to see if this therapy might cause that. Another thing to consider as you design your clinical trial is ensuring you have a diverse group of trial participants. Often times, more so in the past, clinical trials did not have a diversity of participants (race/ethnicity/weight/age/etc) which led to less success of the treatment when given to the general population. Overall I think you did a great job and I hope you continue your interest in biology/immunology/cancer research!"
-Senior Program Manager in Infectious Disease Research, Moderna
"I am a research scientist who works on developing medical imaging solutions for minimally invasive surgeries.
Great job on your clinical trial design! You gave a very thorough explanation of the disease and how you expect the treatment to work. I really like that you included a description of how this treatment was used to treat other similar conditions—this is an important factor in helping to show that the treatment is likely to be safe and effective. You also did a great job of detailing how the trial will work: how you will select patients, important safety considerations, and bias prevention.
You described nicely what the timeline of therapy delivery would look like and that the patient will be monitored to track the progression of the cancer throughout the trial.
If you were to take this project a step further, you could think about how specifically you would show that the treatment was successful or not? What sort of tests or imaging can you run to quantify the effects of the therapy? At what point(s) would you run these tests (i.e. a week, a month, or a year after the start of therapy) and why?
Overall, very thorough research and great trial design! You did a great job thinking through this complex problem and I hope you continue to pursue scientific research in the future!
-Research Scientist, Philips
Industry Award: 1st Place High School Biomedical Science Project
School: Shepherd Hill Regional High School
Teacher: Thomas Courtemanche
You might also be interested in